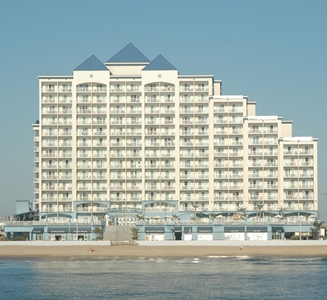 Hardin Kight Associates, Inc. has been involved in a wide range of large and small projects. Residential projects include single family communities, apartments, condominiums, dormitories and retirement communities. Commercial projects include shopping centers, warehouses, parking garages, and office buildings. Public projects include bridges, roads, landfills, and lagoons.
HKA has extensive experience in Ocean City Maryland and has been directly involved with several very successful projects at the Ocean City Convention Center. HKA has overseen the installation of deep foundations on many condominium buildings in Ocean City, Maryland.
HKA has pioneered the design and construction of condominiums on shallow footings on improved reclaimed land on the bay side in Ocean City.
Representative projects:
| | | |
| --- | --- | --- |
| Project/Location | Date | Owner/Client |
| Hilton Hotel, Ocean City, MD | 2004 | Harrison Group |
| Fox Run Village, Nov, MI | 2002 | Erickson Retirement Communities |
| Holiday Inn Suites, Ocean City, MD | 2000 | Harrison Group |
| Residences at River Run, Cambridge, MD | 2004 | Beazer Homes |
| The Park At Ocean Pines, Ocean Pines, MD | 2000 | Slenker Land Dev |
| Belmont Towers, Ocean City, MD | 2005 | Russel Riggerio |
| Glen Riddle Farm, West Ocean City, MD | 2001 | Centex Homes |
| Municipal Parking Garage, Ocean City, MD | 2007 | Town of Ocean City |
| Student Services, UMES Princess Anne, MD | 1998 | Univ Of Md Eastern Shore |
| Wallops WWTF, Wallops Island, VA | 1999 | NASA |
| Wal-Mart, West Ocean City, MD | 1998 | The Cordish Co. |
| Wicomico County Courthouse, Salisbury, MD | 1999 | Wicomico County |
| Worcester County landfill Cell 3 | 2001 | Worcester County |
| Midshore Landfill Cell 3, Easton, MD | 2006 | Queen Annes County |
| Sommerset County Landfill, Princess Anne, MD | 2006 | Sommerset County |
| Convention Center, Ocean City, MD | 1995 | Town Of Ocean City |
| WWTP, Ocean Pines, MD | 2004 | Worcester County |
| Captains Quarters Crisfield, MD | 2003 | Southern Builders |
| North South Boulevard Bridge, Greenbelt, MD | 2007 | Prince Georges County |
| Sandtown Landfill, Sandtown, DE | 2003 | DE Solid Waste Authority |
| Devilbiss Hall, Salisbury, MD | 1999 | Salisbury State University |
| Stephen Decatur Mid School, Berlin | 1999 | Worcester County |
| Worcester County Jail, Snow Hill, MD | 2006 | Worcester County |
| RLTV Studio-Office Building, Baltimore, MD | 2009 | Retirement Living Television |
| Brooksby Village, Peabody, MA | 2008 | Erickson Retirement Communities |
| Charlestown Village, Baltimore, MD | 1990 | Erickson Retirement Communities |
| Quarry Lake, Baltimore, MD | 2009 | Koren Development/Beazer Homes |
| Brightview at Rossville, Parkville, MD | 2005 | Shelter Development |
| Parkview @ Woodlawn, MD | 1998 | Shelter Development |
| Science Center Addition, Baltimore, MD | 2002 | Maryland Science Center |
| T.Rowe Price HQ, Owings Mills, MD | 2010 | T. Rowe Price |
| Delight Quarry Reclamation, MD | 2009 | Florida Rock |
| Seabrook Village, Tinton Falls, NJ | 1999 | Erickson Retirement Communities |
| Tanyard Springs, Glen Burnie, MD | 2009 | Lennar Homes |
| Wallops Runway Extension, Wallops Island, VA | 2003 | NASA |
| Wicomico Airport Runways, Salisbury, MD | 2008 | Wicomico County |
| | | |